Hi all,
i have a running 5 disk raidz1 pool (4TB-hdds)

and wanted to add to more drives (3TB hdds) for a new mirror-pool.

Problem: The device-name of the new disks are mixed into the existing pool of 4TB devices. Pool still working and online. So it is not using these two new 3TB devices.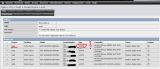 --> Result: it is not possible to format the 2 3TB devices to put them into an new vdev for a mirror-pool or somehting
.

How can I handle that from the software side?
Why the wrong 3TB device is shown in the vdev of the 4TB devices?!
Thanks a lot for any input
Version: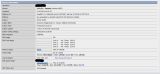 What I did up to now:
- formated the disk in windows serveral times
- tried everything by manually delete/destroy/create the new vdev/mirror/pool on both 3TB disks with all commands i could find (XigmaNAS-command) - but it is not shown under vdevs --> In any case this should however work also in the GUI, i think.
- switched cables and plugged them in other sata-ports (everytime afterwards import disk with clear config checked)