Hi,
Here's my Nas4free setup.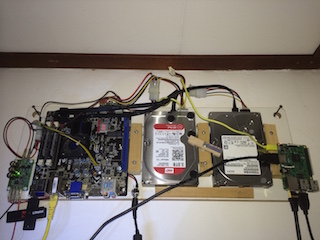 I wanted it to be:
- cheap
- power-efficient
- silent
- cheap
- encrypted
- sort of reliable
- cheap
Well "cheap" is the recurring theme here. (As if you couldn't tell from looking at the picture
.) This
NAS
mostly wooden contraption hangs on the wall in our broom closet. At first the drives were a push-fit but they're spinning 24/7 and the vibration made them slowly slide out. I had a degraded array once and found one of the drives on the floor
. I nailed some more wood around them drives afterwards.
Left in the picture you'll notice
PicoUPS
. Not in the picture are the sealed lead acid battery and the power brick. A
PicoPSU
rounds it off. Brilliant stuff. And heaps cooler and quieter than the old 220v UPS.
All is well but with encryption (geli) filetransfers are slow. Also ZFS without ECC which, I'm led to believe, eventually will result in data fire & brimstone or data corruption, whichever comes first.
As you see a thorough professional setup. I'm thinking about upgrading i.e. replacing mobo/cpu with something with ECC & AES support. Asus M5A78L with a FX4100 perhaps.
But a HP microserver gen8 sounds promising too.